Dressage Centre De Haarhof
Instruction Taming Guest house
The Haarhof is a family enterprise, owned and run by Odilia Arkema (Prix St George level) and her husband Gerard, with help from her father and mother, and enthusiastic contributions from the children, Robert and Margot. The centre is located in the north of Netherlands, near the border of the provinces of Groningen and Friesland. We are 25km (17 miles) west of the city of Groningen, the 'Amsterdam' of the North, in a typically Dutch rural landscape of flat, open fields, small villages, windmills and medieval churches. Cycling trips are popular throughout the summer months -- the countryside is criss-crossed with cycle paths -- and ice skating is a favourite winter pastime, especially in the coldest winters when the canals freeze solid -- but this is also dressage country, with a wealth of opportunities to compete at advanced levels and a fine tradition of breeding top-class dressage horses.
Odilia and Gerard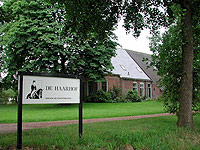 We are currently involved in a wide range of activities, including:
The training or corrective schooling of horses for clients;
The presentation of clients' horses at competitions, such as the PAVO- cup, VSN, etc.
Buying and selling dressage horses;
Dressage instruction at all levels, including the ORUN diploma;
Organisation and presentation of dressage clinics.
Care of livery horses;
The training and competing of our own dressage horses;
If you would like more information about any of these activities, or the possibility of a work-experience placement, please do contact us.