Dressage Centre De Haarhof
Instruction Taming Guest house
Back to the overview
Amazing competition at CH Westerkwartier!
Monday 13 May 2019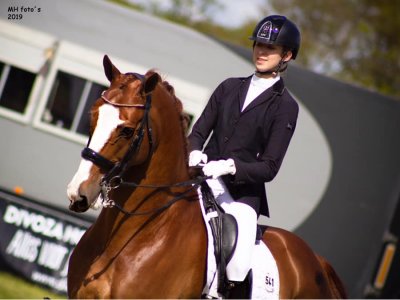 4 horses, 28 winningpoints and so many great prices!
Something we could only dare to dream withthese amazing horses! Together they recieved 8 first placements, and scored all tests in the top 5!
Gavaristo was able to win his debut in the ZZ-Zwaar with over 70%, add another second place and win the freestyle with 71,6%
His Wish scored almost 70% and placed 1st and also recieved a second place in the freestyle with 67+%
Happy4Feet gathered 3 first prices and a second price, and was able to win the first selection for the regional championships!
Kinsey was able to place 1st and 4th on both days in the L1 level.
What an amazing competition with great riding surfaces and such a dedicated team behand the screens!
Article hoefslag
https://www.dehoefslag.nl/laatste-nieuws/subtop-margot-arkema-debuteert-achtertuin-met-score-boven-70.html
Article Horses.nl
https://www.horses.nl/dressuur/subtop/margot-arkema-grootverdiener-in-zz-zwaar-op-ch-westerkwartier/